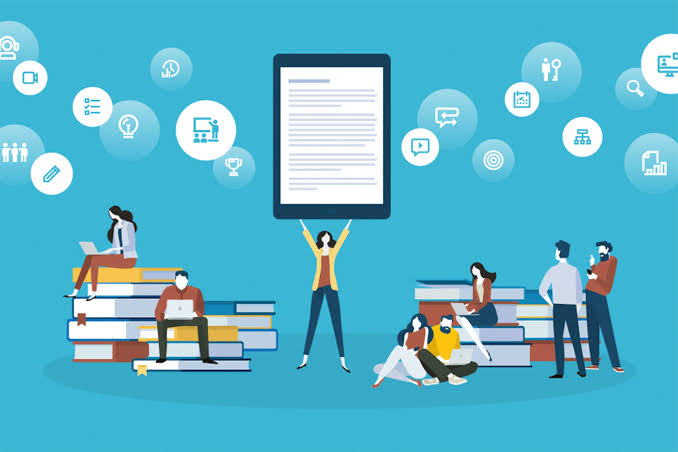 Mobile Learning
Mobile learning is a boon to today's students who do not have time to go to learning centers or study in traditional classrooms. It is a type of distant learning that lets students use educational technologies on their mobile devices however they desire. 
The idea of mobile learning is nothing new. Many schools and other educational institutions are attempting to implement this technology in order to better teach students using computers and mobile phones. This method is not only useful and practical, but also enjoyable, which is why it encourages individuals of all ages to learn. That is why, on a daily basis, numerous educational technologies are introduced and made available to educators and trainers. 
This article will discuss the definition of mobile learning, as well as its benefits and drawbacks. It will also cover a variety of mobile learning tools and creating content for mobile learning.
What is Mobile Learning?
Mobile learning (m-learning) is the process of obtaining learning materials via mobile apps, social interactions, and online educational hubs over the Internet or a network utilizing personal mobile devices such as tablets and smartphones. It is adaptable, allowing students to receive education from anywhere and at any time.
Mobile learning allows educational institutions to transmit information and educational content to students on any platform, at any time, and from anywhere. Students use mobile apps and technologies to complete and submit projects to teachers, download course materials, and collaborate on activities in online social groups.
Course creators most commonly use the term "mobile learning" to describe the technology of mobile devices and apps that educators utilize in the classroom. However, it can also refer to the use of mobile technology to facilitate always-on learning.
Creating Content For Mobile Learning
It is a prevalent misperception that educators can easily convert e-learning resources to mobile learning courses. During the transition, however, they must rethink the entire instructional design. To create a gratifying,  visually and cognitively rewarding user experience, mobile learning necessitates minimalism, an emphasis on granular design, and instructionally sound design.
Following these simple but important rules will allow course makers to make learning easier for students and provide them with an intuitive and engaging learning experience that matches their needs wherever they are. 
Maintaining a Simple Navigation System 
Simple, uncomplicated, and easy-to-use systems are the most effective.
Mobile learning content must have a user interface that is simple to navigate and can be operated entirely with a single thumb, or at most two thumbs. Instructional designers should consider the lower screen size, which makes navigation more difficult than on laptops and desktop computers. Following this, they should develop a layout with proportionate selectable regions and large buttons to aid the user in selecting the correct button. 
Concentrating on Low Data Density
Mobile learning has a lower information density than traditional e-learning. Therefore, content must be tailored to accommodate a shorter attention span, memory limits, and the limited battery life of mobile devices. 
In general, developers should attempt to produce information in bite-size portions that take no more than five minutes to process. Each of these sections should be provided as a stand-alone module to allow students to view the course in a non-linear manner and obtain crucial material as needed. 
As a result, instructional designers must think small when creating mobile learning courses. Because mobile learners are often on the lookout for timely and specific information, it is critical to eliminate everything that isn't essential.
Designing for Visual Clarity
Learners must be able to access information in a variety of situations, including when they are outside, on public transportation, in varying light and noise levels, or when they are interrupted frequently.
To make the text simpler to consume on a small screen, the designer should use a combination of captions, icons, color, and symbols, as well as clear and simple language in large font and short paragraphs. 
Creating Searchable Content
Easy access to information is the finest aspect of having study materials on a mobile device. Using apparent titles that learners can scan along with an easy-to-use table of contents, index, and menu, instructional designers can maximize the likelihood of mobile modules being found when they are needed. Course creators should make content searchable if at all practicable.
On an average-sized mobile screen, content should last no more than three scroll lengths to minimize excessive scrolling. Creators can break up content into separate screens that only take up half of the screen, with a clear "next" button, if necessary, so that learners do not have to scroll as much.
To avoid both distracting learners and wasting space in the initial scrolling zone, all secondary content, such as optional navigational controls, links that are not relevant to the information being displayed, copyright notices, and other legal information, should be kept to the bottom of the screen. Every screen should direct the student to further content so he or she can catch up or dig deeper into a topic.
Advantages And Disadvantages
Following are a few key advantages and disadvantages of mobile learning, which all course creators should be aware of. 
The Benefits Of Mobile Learning 
Mobile learning is extremely popular, and its use has skyrocketed in recent years. The following are five benefits of mobile learning and why all course creators should use it: 
Accessible From Anywhere And At Any Time
Because mobile learning entails studying via mobile device while connected to the internet, students can access it from anywhere in the world at any time. 
The key advantage of mobile learning is that it spans a large geographic area. Thus, users may access the same content or tests at the same or different times whether they are in Canberra, Australia, or California, United States of America. In mobile learning, distance is not an issue. 
There is a lot of information available on the internet. It is quite easy for anyone to access it because of its vast diversity. Moreover, it can be accessed by numerous people from all over the world for various topics or issues. 
Many educational apps incorporate online quizzes to keep track of one's progress (daily, weekly or monthly, depending on firm to firm). Educational apps present the material in such a way that it draws in the students; as a result, there are game quizzes that motivate students to improve on their past performance. 
It Puts One's Knowledge To Test
Online quizzes, puzzles, and riddles are created, as mentioned above, and answering these quizzes, puzzles, or riddles helps users enhance their knowledge. Apart from study materials, the internet offers a variety of quizzes, puzzles, multiple-choice questions, and other activities. These can be used to evaluate one's knowledge and potentially improve their IQ.
The Drawbacks Of Mobile Learning
As appealing as the benefits sound, there are some drawbacks to mobile learning. Because there are two sides to every coin, here are a few disadvantages of mobile learning: 
Software is an application that runs on a device in accordance with the instructions programmed into it at the time of development. The life of a software could appear to be straightforward. However, there are a number of external circumstances that can stymie its progress. These external influences are causing IT trends to shift. Software compatibility issues, failure to upgrade to a new version, frequent system crashes, and other issues obstruct the software's operation. Thus, these issues further interrupt one's seamless mobile learning experience.
Hardware, unlike software, makes use of physical devices. The actual gadgets that students and course creators use can break down over time. Overuse, dust, hard handling, and other factors might cause them to break down. These are some of the things that can cause one's phone or other gadget to stop working properly.
Moreover, mobile learning produces a lot of distraction. Many students open their phones to learn something but wind up accessing social media sites, chatting, exchanging photos, or playing video games instead. These types of diversions squander time that may be better spent on more important tasks. 
Inability To Connect To The Internet Or A Lack Of Electricity 
This can be a concern in rural locations and areas where internet and electricity consumption are not yet common. What good is a gadget if students do not have access to energy or the internet to use it and take advantage of mobile learning? To get the most out of their mobile learning experience, students must make sure they have satisfied all the prerequisites.
The Applicability of Mobile Learning 
Mobile learning is formal but informal, which is exactly what most students want. Mobile learning allows students to learn in the comfort of their own home, without having to abandon their daily activities and plans. 
Those who do not participate in online classes can still access learning resources. These include educational articles, videos, audios, pictures, and even text. This on-demand accessibility has further added to the success and renown of this learning method. 
These and other advantages of mobile learning, such as eco-friendliness, cost-effectiveness, ease, and the amount of enjoyment obtained from learning, have prompted corporate behemoths and developing firms to migrate from physical to virtual training sets.
The prices of mobile devices have reduced dramatically over the years. This is a result of the ongoing release of new gadgets and the variety that is now available. For those considering mobile learning, this is the icing on the cake. This means that everyone, from the young to the elderly, may easily make a one-time investment that will provide years of learning and enjoyment.
Image Sources: Shutterstock and Unsplash 
For more information on mobile learning, visit our blog. 
Create. Engage. Inspire.