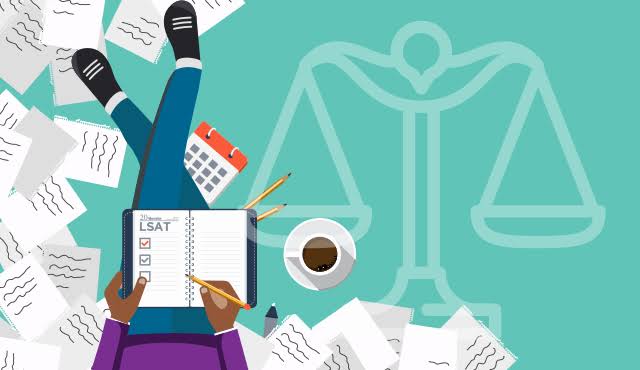 Preparing for the LSAT
The prospect of practicing law in the United States is likely to excite many students. This is because it is fascinating, straightforward, and demanding. However, in order to get there, they must first attend law school. In addition, if they want to prepare for a career as a hotshot lawyer in the United States, they must also start preparing for the LSAT.
The Law School Admission Test (LSAT) is unlike any other exam a candidate has ever taken in their life. The LSAT is a skills-based exam. It assesses critical reading and analytical thinking abilities that are essential for law school success. Before they start preparing for the LSAT,  aspirants should familiarize themselves with the exam's ins and outs. This will help them prepare for what will be on the exam.
Let us start with a definition of the LSAT, as well as its eligibility and prerequisites. Following that, we will move on to how to study for the LSAT, the exam format, and the cost of taking it.
What is LSAT? 
In the United States, Canada, and a rising number of other countries, the Law School Admission Test (LSAT) is a requirement for admission to law school. The LSAT is designed to assess the skills needed to succeed in the first year of law school. These skills include reading comprehension, thinking, and writing. The exam results provide vital insight into law school readiness for both admissions decision makers and candidates. 
The LSAT is the single strongest predictor of first-year law school achievement, even better than undergraduate grade-point average, according to studies. The LSAT, according to LSAC, should be simply one component of a comprehensive admissions process that takes into account each candidate's skills and life experience.
Eligibility and Prerequisites of LSAT 
Most law schools require applicants to take the Law School Admission Test, which is a form of standardized test. Candidates must take the LSAT before applying to a law school in the same manner that they would take the ACT or SAT before applying to college.
According to the LSAT eligibility criteria, applicants for admission to an LLM program must have completed or be in the final year of their Bachelor's degree or be scheduled to take the final exam (LLB).  

The LSAC may not accept some degrees. Hence, it is a good idea to double-check whether the LSAC accepts a given degree.

Each law school that participates may have its own set of eligibility requirements. As a result, one must check with particular institutes for the most up-to-date eligibility requirements.

Only after ensuring that they meet the LSAT eligibility requirements set forth by the law school in question should a candidate start preparing for the LSAT.

Who is ineligible to take the LSAT?

Anyone who has worked as a test supervisor or testing staff member at an LSAT test center in the previous 24 months is ineligible to take the LSAT. 
Candidates preparing for the LSAT can take the exam three times in a single LSAC year (June to May), five times in five years, or seven times in a lifetime. Tests taken prior to September 2019 are not a part of these totals. All of one's results from the previous five years are submitted. Moreover, depending on the concerned law school's policy, either their greatest score or an average of their scores is used.
How to go about preparing for LSAT? 
If a candidate is considering taking the exam or has already begun preparing for the LSAT, they may be feeling overwhelmed. That is fine; everyone studying for the LSAT experiences this at some point. All an aspirant needs to do is stick to a few LSAT study tips, and they will be fine on the test day.
Blocking the Study Time Early
The first step in the process of preparing for the LSAT is to aim to study for at least two months, and three months if possible. An aspirant should study for 2 to 3 hours each day for at least 4 to 5 days per week during these months. There is no getting around it: studying for the LSAT is like taking an extra class throughout the semester. And blocking off one's calendar in advance is the only way to excel in LSAT preparation. 
Candidates should plan ahead of time to ensure that they have enough time to study. They do not want to find out a few weeks before that they have not given themselves enough time for preparing for the LSAT.
Choosing the Most Appropriate Study Materials
Candidates must choose the finest study resources after deciding on the best LSAT study schedule for them. A prep book or two will be essential to their success in preparing for the LSAT. 
They may determine that a prep course is necessary in addition to selecting a suitable book. It may be that an aspirant lacks discipline or the prospect of creating their own course plan intimidates them. If this is the case, they can enrol in a course with a predefined schedule. If they value flexibility or need to fit LSAT prep into an already packed schedule, they may find that studying online at their own pace is the best option. In either case, candidates must make their choice early and on the basis of what has worked well in the past.
Practicing as Much as Possible
Candidates have chosen their LSAT test date and purchased their preparation materials. They are already aware of what is next: a lot of LSAT practice! To truly improve one's LSAT performance, one must devote countless hours to complete LSAT practice problems. Candidates must do so for a variety of reasons:
To begin practice tests while preparing for the LSAT, they must learn how the LSAC forms LSAT problems. Additionally, they should know how the test developers would write questions and answers in an attempt to confuse the candidates. 

Second, they must see all the difficulty levels that they will encounter on test day. Not all Logic Games or Logical Reasoning questions are the same. The ability of a candidate to recognize difficult questions will play a role in their success. Aspirants should skip these questions and return to them later if they have time. 

Finally, by the time the actual LSAT arrives, candidates should be so comfortable with LSAT test questions that they can take on anything the LSAC throws at them. 
Reviewing incorrect answers and completing practice exams are also important parts of preparing for the LSAT. Understanding how to study for the LSAT is critical, as it will allow them to maximize their study time.
Concentrating on the LSAT Logical Reasoning Section
Candidates must perform well on Logical Reasoning if they want to do well on the LSAT. What is the reason for this? Because logical reasoning accounts for half of one's LSAT score. Another method to consider the value of Logical Reasoning is to consider that any time spent on it is worth twice as much as time spent studying Logic Games or Reading Comprehension.
Yes, candidates should devote particular attention to Logical Reasoning. However, this does not mean they should ignore the other sections while preparing for the LSAT. Although it may be tempting to skip through the most difficult section—Logic Games for most students—one must not do so. When candidates first start out, their weakest section is also the place where they may acquire the most points and see the most improvement in their score.
Not Skipping the LSAT Writing Sample
Even while the LSAT writing sample does not contribute to one's overall LSAT score, it is nevertheless crucial. When law schools check a candidate's records, they may look at their writing sample. Candidates do not want to miss out on another chance to impress the admissions committee. On the other hand, preparing for the writing sample does not require a significant amount of time. Candidates will be fine if they practice the writing sample every time they take a practice test while preparing for the LSAT. 
LSAT Exam Pattern
The LSAT is divided into six sections: one unscored essay section and five 35-minute digital multiple-choice sections administered at the testing center on a tablet. Four of these sections will be graded, while the fifth (or variable) section will be left ungraded. Test takers have no idea which sections are unscored until the day of the test. As a result, mentors advise that the candidate responds to all the questions on the LSAT question paper. To prevent cheating, sections are given in a varied sequence to various test takers. 
Sections of the LSAT include: 
Two 25-question logical thinking sections entail dissecting and analyzing a short argument or set of data to find the main assumption, other conclusions, errors and omissions, comparable arguments, and components that strengthen or weaken the argument.

One reading comprehension section with 26–28 questions, divided into four 400–500-word passages with five to eight related questions each. Test takers must identify the primary idea, particular information, inferences, and/or writing structure for topics such as law, arts and humanities, physical sciences, and social sciences. 

One analytical reasoning section of 22 to 24 questions, consisting of four logic games that require grouping, matching, and ordering elements, based on a premise and a set of conditions and relationships between subjects that serve as the foundation for conclusions based on the statements. Although there is no single correct answer, the LSAC assesses test takers on their analytical abilities. Aspirants widely regard this as the most challenging section of the LSAT. It is where many test takers devote the most of their preparation time.

Administrators test new questions for future tests in the variable section, and the results do not factor towards the final score. However, candidates must keep in mind that they will not be able to discern which section is the variable while taking the test.

Finally, utilizing secure proctoring software, the written exam is done separately on the test taker's own computer. Test takers get 35 minutes to read a decision prompt or problem, as well as the criteria for making decisions, and then write an essay advocating for one of two solutions. The emphasis is on the writer's ability to argue both for and against the chosen viewpoint. This portion is not graded. However, a scan of the essay is sent to applicants' prospective law schools along with the scaled numerical score.
The Cost of Taking LSAT 
The LSAT costs $200, and applicants get one free score report with it. In addition, most law schools require a subscription to the Credential Assembly Service (CAS) in order to apply. This $195 subscription also comes with one free score report. The cost of additional score reports is $45. LSAC provides waiver forms for the LSAT and CAS fees. The aspirants can access these from the LSAC website.
If candidates fantasize about making the ideal opening statement or banging the gavel, this includes making space and preparing for the LSAT. The Law School Admission Test is a difficult exam that assesses candidates' readiness for a legal career. Yes, it sounds overwhelming, but one need not get too worked up about it. Aspirants will be ready to go with their hard preparation and commitment, on their way to making a courtroom their new abode.
Image Sources: Shutterstock and Unsplash 
For more information on preparing for the LSAT, visit our blog. 
Create. Engage. Inspire.